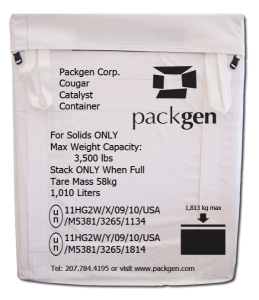 Composite Catalyst and Chemical Containers
When you need a dependable catalyst and chemical container, look to the receptacle experts of packgen. Our Cougar Catalyst and Chemical Containers are ideal for safely storing and transporting your spent catalyst and other industrial waste byproducts.
Ranging in size from 42"x 42" x 39" up to 44" x 44" x 56" with volume capacities from 38 cubic feet up to 60 cubic feet, you'll find a Cougar Catalyst Container that will suit your needs. These composite containers are designed for huge weight capacity (up to 4,000 lbs of PGII or PGIII materials), yet they are lightweight and collapsible, greatly saving you space, effort, and above all, money. Cougar Catalyst Containers are even green; their efficient design reduces emissions by over 22%.
Call packgen today to speak with a catalyst and chemical container expert at 207-784-4195.