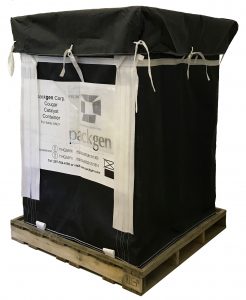 Composite Catalyst and Chemical Containers
When you need a dependable catalyst and chemical container, look to the receptacle experts of packgen. Our Cougar Catalyst and Chemical Containers are ideal for safely storing and transporting your spent catalyst and other industrial waste byproducts.
Have you ever experienced unexpected delays of a scheduled catalyst turnaround? If you rent flow bins, time is your enemy and every delay or scheduling conflict increases your change-out costs. packgen's patented composite chemical storage containers will save you thousands of dollars per turn around and make time a non-issue because you own the containers.
Questions about our selection of green and cost-efficient chemical containers? Wondering how to make hazardous material disposal and recycling easier while saving capital? Contact us online or call packgen today to speak with a catalyst and chemical container expert at 207-784-4195.