High Quality, Space Saving FIBC Bulk Bags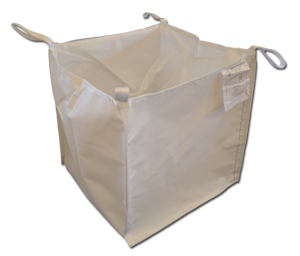 Trust the container experts of packgen for all of your bulk bag needs. Known in the industry as FIBC Bulk Bags, or FIBC "Big Bags," these receptacles will impress even steadfast polycarbonate or steel drum users. Flexible Intermediate Bulk Containers (FIBC) mean space efficiency, cost efficiency and unsurpassed weight to strength ratio. These versatile bags weigh in at only 21 lbs each, yet they can withstand the weight of up to 3500 lbs of solid material! Additionally, all of our standard FIBC Bulk Bags and UN Approved FIBC Big Bags come with a liner of 6mm polyethylene.
Contact packgen's professionals to request a quote or to discuss custom sizing options for your FIBC Bulk Bag order–we can design and deliver Big Bags of almost any dimension! Call us today at 207-784-4195.